Autorun Organizer คือโปรแกรมตั้งค่าเปิดอัตโนมัติ โปรแกรมนี้เป็นเครื่องมือสำหรับการจัดการกับโปรแกรมต่างๆที่มีการเปิดตัวโดยอัตโนมัติตอนบู๊ตเครื่อง Autorun Organizer หรือเราสามารถเลือกโปรแกรมที่เราต้องการเปิดอัตโนมัตินั้นมาจัดการเองก็ได้โดยปกติแล้วโปรแกรมที่มีการเปิดเองโดยอัตโนมัตินั้นมีการทำงานโดยปกติ ไม่มีการตั้งค่าความเร็วในการเปิดแต่อย่างใด โปรแกรมนี้ช่วยให้โปรแกรมเหล่านั้นเปิดตัวอย่างรวดเร็วหรือสามารถจัดการตั้งเวลาในการเปิดตัวเองช่วงเวลาใดก็ได้ตามที่เราต้องการทำให้การทำงานคอมพิวเตอร์รวดเร็วยิ่งขึ้น
Autorun Organizer- advanced startup Manager for Windows, it can be used to estimate the system boot time, disable unwanted programs, and also to queue to optimize the boot process at system start. Disabled records are checked by the program for their re-emergence and automatically disabled when re-enabled.
When creating the queue startup can consistently run important programs at the beginning and less important at the end of the queue. This will allow to quickly start working with the system. With the help of the diagram that shows the boot time of the system at different times, you can clearly see the difference, which is obtained as a result of the manipulation.
features
Improves load times and overall performance Windows
Turn on and off autorun elements
Removes startup items
Automatically monitors invalid entries
Suspend the programs (not available in Windows XP)
Shows a visual Windows boot time
Quick search
Automatically detects erroneous records
Autorun Organizer- is offered completely free of charge, without any hidden restrictions or fees. You can have it up and running in no time, after going through a standard installation process. The application is compatible with all popular Windows versions, it doesn't ask for too many resources and it doesn't have any special requirements.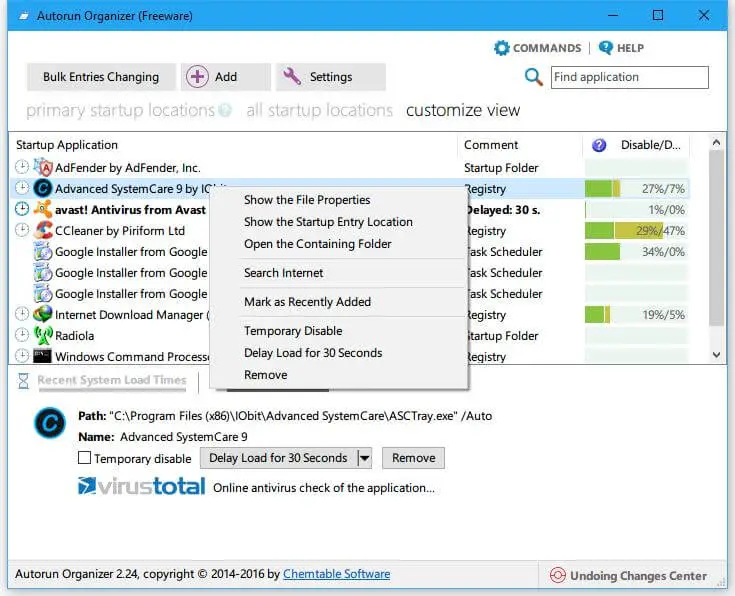 อัพโหลดโดย : easyall-download
Developer: http://www.chemtable.com
License: Freeware
OS: Windows
การทดสอบ : ยังไม่ได้ทดสอบ
ยาแก้ไอ : Freeware
วิธีติดตั้ง : ไม่มี
Download:|
One2up
|
Dailyuploads
|
Userscloud
|